Increase Your Air Quality Today
Our Air Purifiers Have The Latest Technology & A True HEPA Filter Allowing Excellent Air Flow In Your Space...
Allows for excellent airflow removing dust, odours & allergens
Styles To Suit Your Space
We have a range of air purifiers perfect to suit your space
Energy-Saving Brushless Motor
Our purifiers have state of the art technology to ensure they run as efficiently as possible
Free Delivery Now Available
Enjoy free delivery on your AmbientAir order today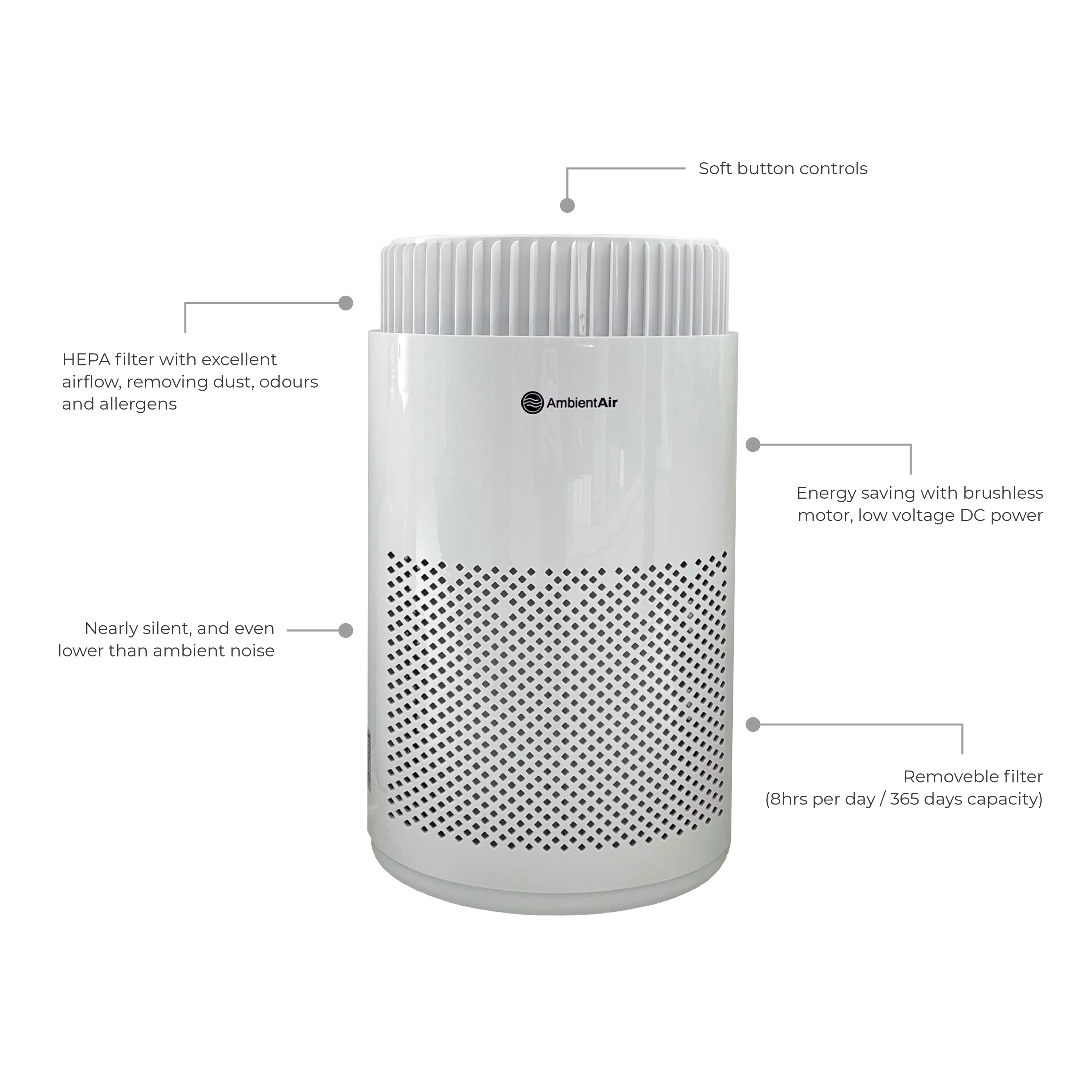 Our AmbientAir air purifiers are designed to remove dust, odours and allergens from the air to ensure you have cleaner and healthier air in your space. By pulling in the unpurified air our true HEPA (high efficiency particulate air) filter can work remove up to 99.7% of any airborne particles.
This makes it perfect during the Summer season where pollen is a huge cause of hay fever.
WHERE CAN I PUT MY AIR PURIFIER?

We have a variety of different air purifiers to suit your needs. Our top-selling air purifiers are the AMB100 and AMB200.
The AMB100 (pictured in the diagram) is our smaller air purifier perfect for rooms up to 12 sq/m. This would make it ideal for a home office or bedroom.
Whereas the AMB200 is designed for large office spaces, meeting rooms, receptions or restaurant spaces.
By having one of these in your space you will increase your air quality leading to increased productivity levels.
BROWSE OUR TOP SELLING COLLECTIONS

"After having my Air Purifier for a few weeks and being able to try it out I can honestly say I love it. My daughter suffers badly from hayfever and some other allergies and even she can notice the difference when she doesn't have it on in her room. This was the main reason for getting it.

I love how quiet the fan is so is perfect for overnight with the sleep mode on."